Ⅰ Phylum- Arthropoda; Class-Insecta; Order- Coleoptera
Ⅱ Identifying Features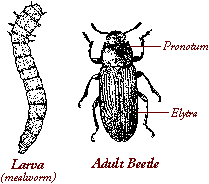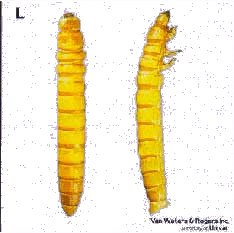 Ⅲ Nutrition
Yellow mealworm contains many minerals e.g. phosphorus, potassium, iron, sodium, aluminum etc. and various microelement, also with 16 kinds essential amino acids for animal growth, each 100g dried mealworm contains amino acid up to 847.91 mgs, protein content up to 50-60%, fat content up to 30%, its nutrient composition stands top one among kinds of animal feed, which is superior food for poultry, birds, snakes and aquatic animal etc.
Ⅳ Appearance (Morphology)
Adult Beetle
Black with hardened front wings (elytra)
Antennae arise under ridge near eyes
Antennae many-segmented, enlarging near tip
Shape quite variable, from almost parallel-sided to round
Head visible from top, followed by pronotum and elytra about same width

Mealworm (larva) averages an inch in length. They have a tough yellowish brown exoskeleton and are cylindrical.

Adult Males and Females It's difficult to tell the difference between the males and females without a microscope and dissection.
Ⅴ

Immature (different stages)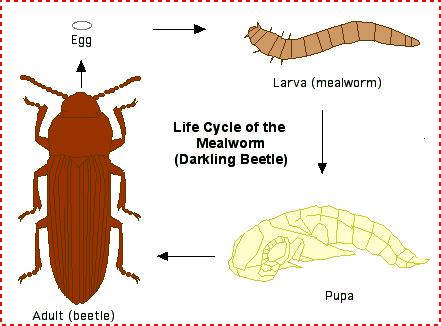 The larval stage (referred to generally as mealworms) is worm-like and somewhat hardened for burrowing.The egg is white. The pupa is 1/2 to 3/4" long., whiteinitially then darkening just before the beetle merges.Length of the life cycle is 3-5 months. The larval stage may molt 9-20 times.