Yellow mealworm could further processed into insect protein powder to substitute traditional fishmeal, completely solve animal food medicine residual problem and heavy metal pollution problem. For along with rapid development of animal husbandry countries, animal protein feed resources comes into crisis. The tradition fishmeal is gradually exhausted along with marine resources, its output decrease by 10% a year. Moreover, due to marine environment pollution, as fishmeal production raw material, such mixed fishes contain more heavy metal, exceed standard already, which has been an important factor to hazard animal food safety. Thus animal husbandry farmers in many countries, taking account of animal food safety and own economic interests, turn their choice of animal protein feed resource from fishmeal to insect powder. Another reason, antibacterial peptide contained by insects, which is natural formation antibacterial material of animal defense system, a natural material to replace antibiotics, sulfa and hormone drugs into animal feed, an active substance to eliminate animal food drugs residual.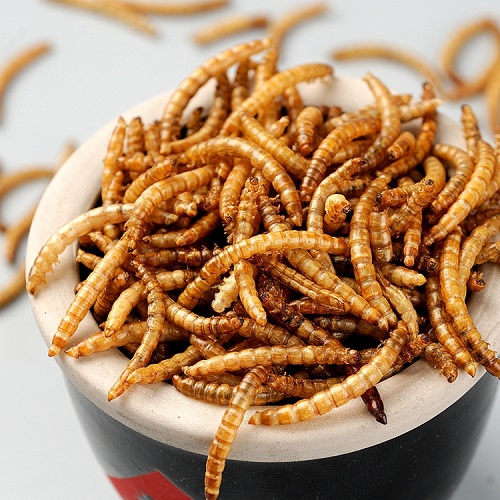 Why more and more people love the yellow mealworm?
It contains many minerals e.g. phosphorus,potassium, iron, sodium, aluminum etc. and various microelement, also with 16 kinds
essential amino acids for animal growth, each 100g dried mealworm contains amino acid up to 847.91 mgs, protein content up to 50-60%, fat content up to 30%, its nutrient composition stands top one among kinds of animal feed. Thus microwave dried or freeze dried meaworm is easy to store as superior food for poultry, birds, snakes and aquatic animal etc.
What animals can be feed by yellow mealworm?

What is the specification of yellow mealworm?