Tofu cat litter for European market
Tofu cat litter is a good replacement for silica cat litter under the circumstance that silica cat litter price is high. Also it is a 100% natural ingredient enco-friendly cat litter.
It's made by beancurd residue as main material, mixed with corn starch,vegetable adhesives.
Tofu cat litter is becoming more and more popular due to its natural ingredient and good water absorption ability.
Compared with silica cat litter, it is more environmentally friendly. Also its price is more competitive than silica cat litter.
It is much less weight than bentonite cat litter. What's more, it is flush-able in toilet which is more convenient to dispose.
| | |
| --- | --- |
| 指标名称(Item) | 指标(Specification) |
| 粒度(Size) | Diameter 3±0.5mm, length about 3-12mm |
| 原料(Material) | Bean powder, corn starch, vegetable adhesives |
| 外观(Appearance) | White column or colored as request |
| 味道(Smell) | Bean like smell, added lavender / green tea/coffee flavor as request |
| 堆积密度(Bulk density) , g/l | 500-600 |
| 水分(Moisture), % | ≤12 |
| 吸收效果(Absorption effect) | Good agglomeration with 35--50g each lump tested by 20ml brine |
| 粉尘(Dust) | Little dust |
| 宠物脚印(Track) | Less track |
| 可分解(Biodegradable) | Yes |
| 可结团(Clumping) | Yes |
| 可冲厕(Flushable) | Yes |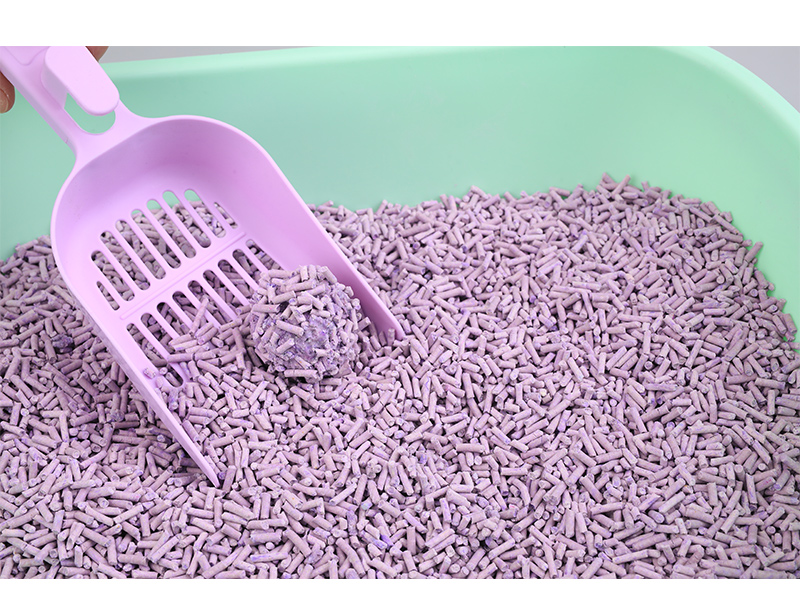 Packing