Best bentonite cat litter popular in Argentina
We have been developing bentonite cat litter in Argentine market since 2017. The Argentinean people has high requirements for the quality of bentonite, especially the agglomeration performance and high requirements for dust. We've been constantly improving our products. After years of hard work, now we have the best bentonite cat litter with good performance on high absorption, clumping fast&hard, odor control, which can meet the Argentine market very well, once the product is launched, it is favored by Argentinean, that is why it is popular in Argentina.
Brief introduction
Ball shape bentonite cat litter is made of all natural clay, which can clump hard for easy scooping. The granules create a powerful bond to lock in moisture and prevent any liquid from getting to the bottom of the litter box. The litter is specially formulated to neutralize the odor quickly and is low tracking, so it will not be messy, and there will be no scattered litter traces. It's hypo-allergenic to common allergens such as dust, plant proteins and fragrances.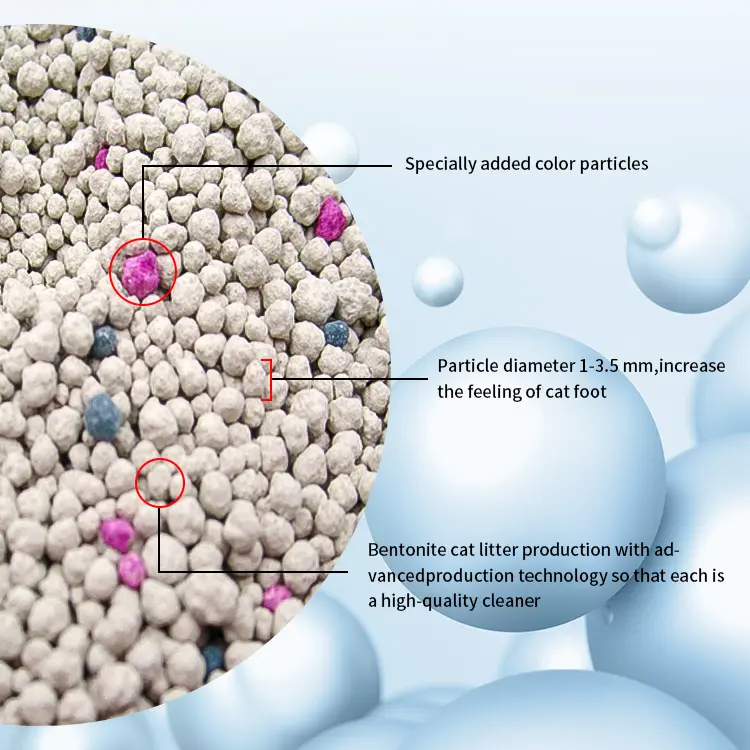 Characteristic
1. Affordable.
It is kind of cost-effective cat litter, the price is low but the user experience is good.Almost all the cat's owners can afford it.
2.Hard clumping and high absorption.
The perfect proportion of small and big granules will help to clump hard and absorb the urine quickly. The cat's owner can find the used litter easily and scoop them out.
3. Odor control.
The hard clumps will cover the urine firmly and eliminate the unpleasant odors and keep your house fresh and clean.
4. Flavor:
Such as Lavender, Apple, Lemon, Coffee, Baby powder, Jasmine, or customized as requested.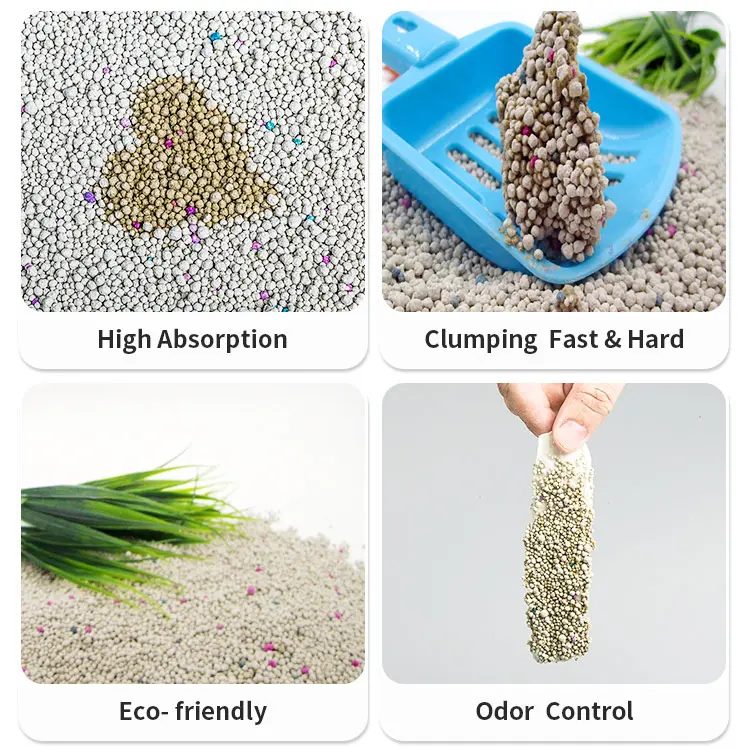 The specification of ball shape bentonite cat litter :
Appearance: Grey white granule.
Scents: Variety of fragrances
Particle size: 1-4MM
Water content: ≦5%
Bulk density: 800-850g/L
Dust: Little dust.
Water absorption rate: >200%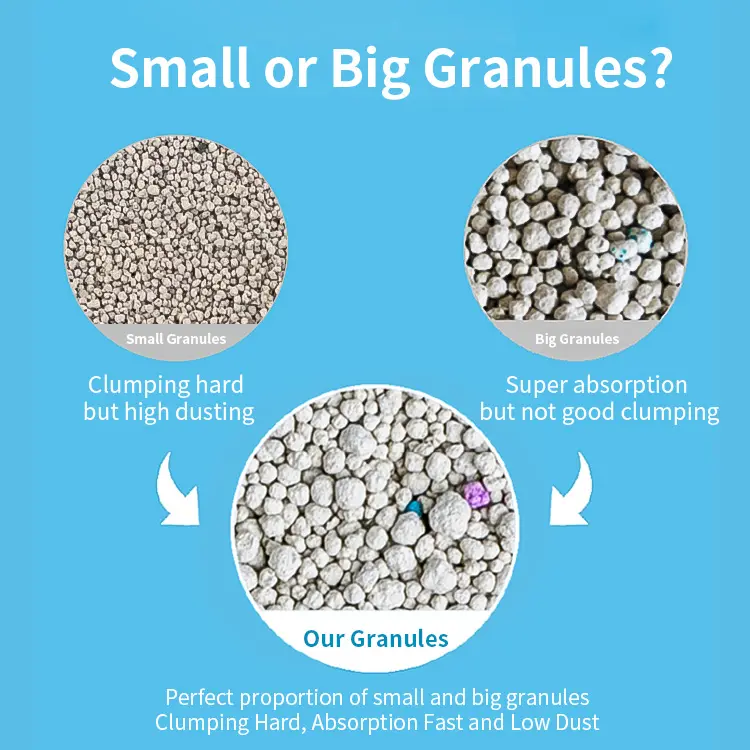 Packing:
3kg, 4kg, 8kg,10kg woven bag,15kg woven bag, 20kg woven bag, 25kg woven bag, or packed as customers requirement.
OEM bag service are available.
How to use ball shape bentonite cat litter?
1.Fill the litter box with litter to a depth 5-10cm.
2.Remove the cat's excrement every day.
3.Refresh the litter to keep its depth 5-10cm in litter box.
4.Do not pour litter into toilet.
5.Better to refresh all cat litters in the litter box once a month.

Certificates &Factory:
We have done BSCI, CTI, ISO certificate which reveal our good quality.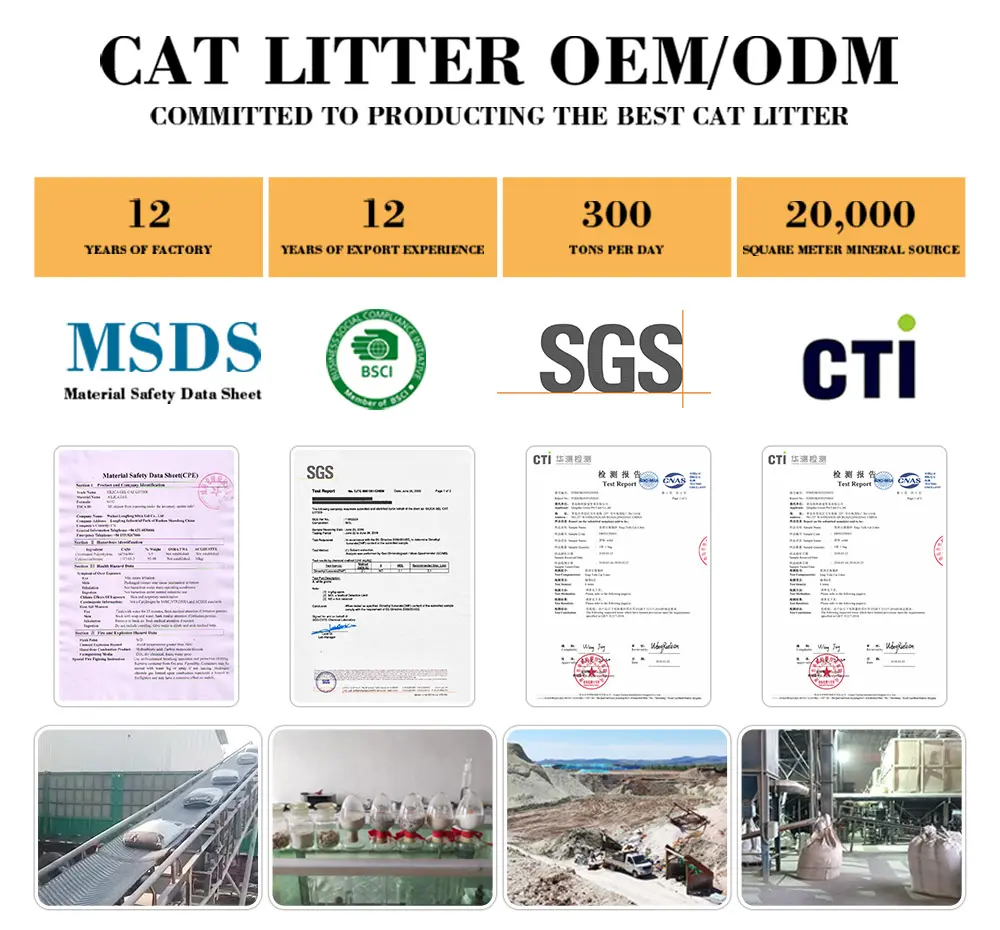 Exhibition:
Greenpet build a friendly relationship with customers at pet exhibition, Such as Interzoo, CIPS, Pet-fair Asia.