Best pine cat litter in Europe
Pine cat litter is one of wood cat litter, also called wood pellets cat litter or wood pine pellet cat litter, which is made from all natural pine sawdust by high pressure and high temperature sterilization process. It's without any additive, chemicals, no-toxin,no harm to the pet even eaten. Pine cat litter is highly absorbent, utilizing the excellent characteristics of fresh pine wood that can naturally decompose odors, the ability to absorb odorous liquids is super strong, which is twice that of similar products, It is biodegradable and will decompose naturally. You can safely remove the used pine cat litter pour into toilet or in the garden as a natural fertilizer.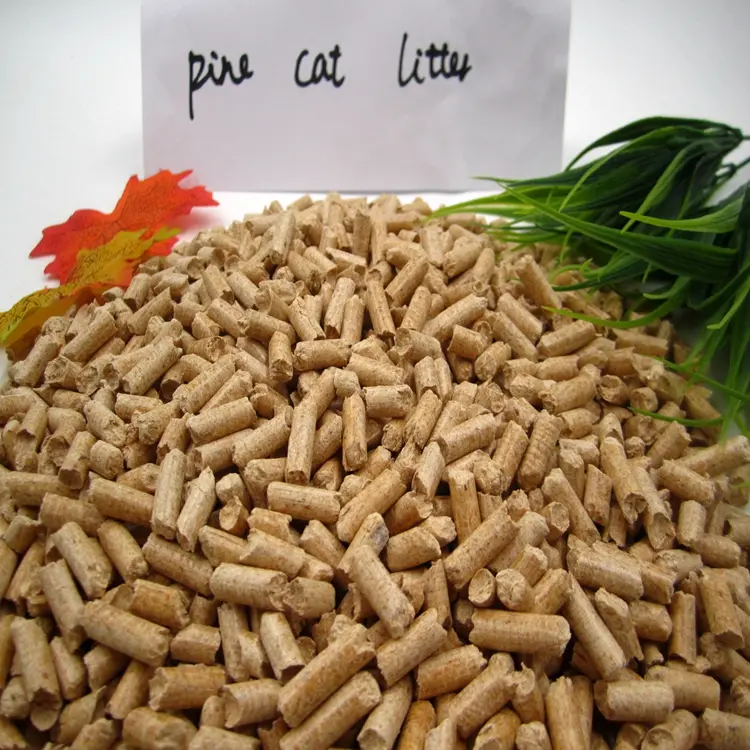 Our Pine cat litter is very popular in Europe due to its following advantages:
1. Odor control.
Pine cat litter is good at eliminating odors and against bacteria. Its natural flavor can cover the unpleasant odors and make your house fresh.
2. High absorption.
It is a kind of unclumping cat litter. The big granule can absorb the urine quickly and break into small pieces. Highly Absorbent, binds directly to ammonia odors and locks them away.
3. Natural, no additive.
It is made from natural pine. No harsh chemicals or synthetic perfumes.
4. Dust-free, no tracking.
The granule are produced under high pressure.There is no dust even if the cat stamp on it,it can ensure the cat's respiratory health.It also keep your floor clean, no tracking, no extra work to clean the floor.
5. Gentle on cat's paw.
Sawdust shavings are gentle on kitty's paws and give the kitty a good experience.
Various types of Pine Cat litter are available
We have 100% pure pine cat litter, green tea pine cat litter, and activated carbon pine cat litter etc.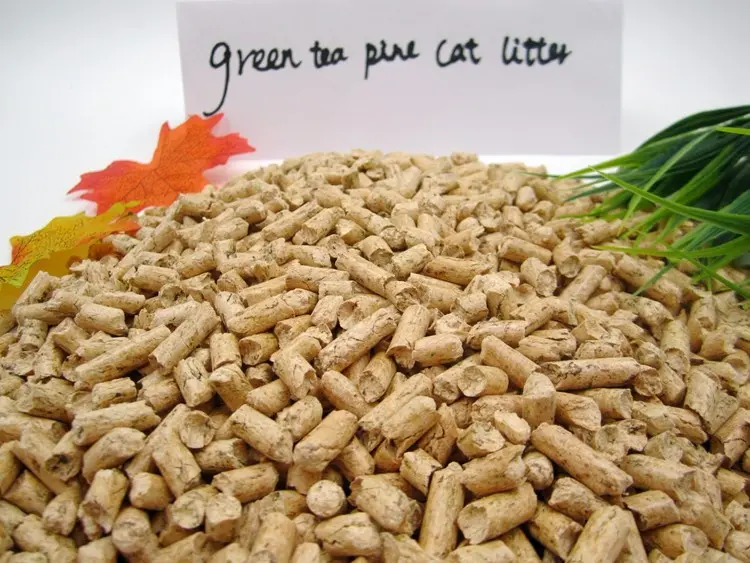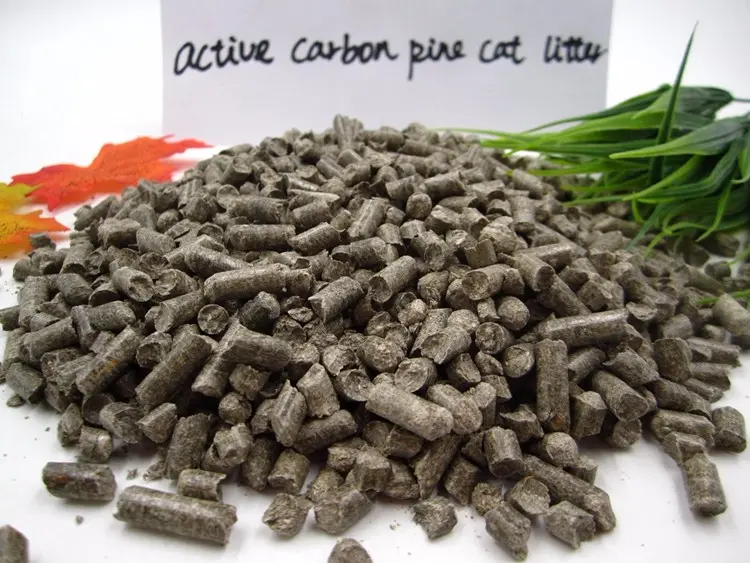 The specification:
Appearance:a big granule in column shape.
Scents:Natural pine scent.
Particle size:Length:10-30MM, Diameter:6MM
Water content:≦12%
Bulk density:550-600g/L
Dust:Little dust.
Water absorption rate:≥220%
PACKING:
Available in 5L , 8L, 9Land 10kg, 20kg, 25kg
OEM and customized package is also workable.
How to use ?

Put pine cat litter into tray to a depth of 2.5cm.

After cat defecation, pine cat litter will take in moisture and break into powder,in the meantime release fresh scent of pine. After excrement scooped out, please shake the tray to let pine powder leak to bottom layer of the tray.

Clean the tray every 1-2 weeks. The used pine power could be as garden fertilizer directly.

Do not pour litter into toilet.
Certificates &Factory:
We have done BSCI, CTI, ISO certificate which reveal our good quality.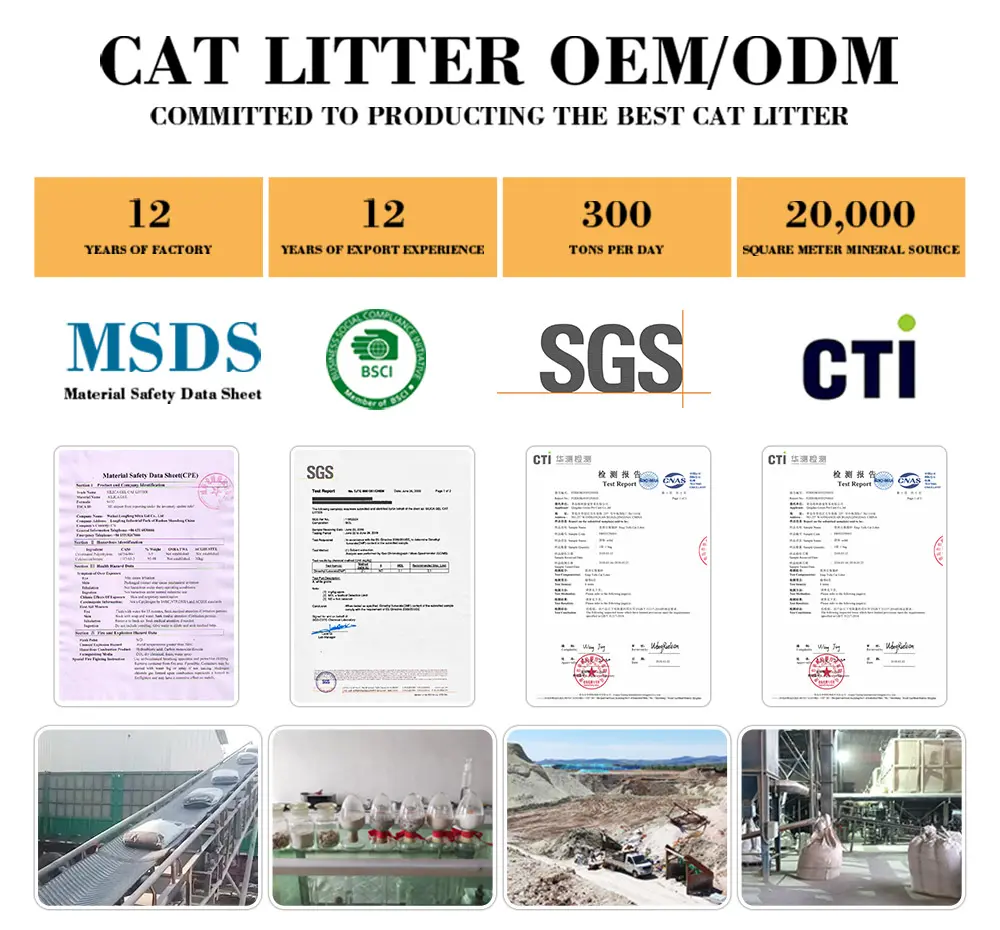 Exhibition:
Greenpet build a friendly relationship with customers at pet exhibition, Such as Interzoo, CIPS, Pet-fair Asia.